Watercolour Weekends in the Peak District National Park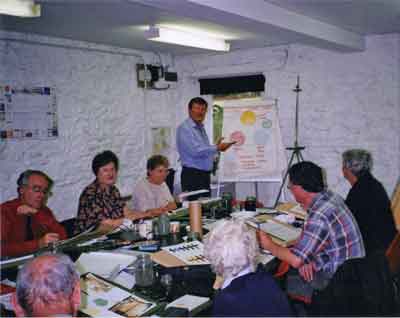 Dr Alan Hearsum welcomes you to a Watercolour Course in the Peak District National Park. If you are interested in improving your art or want to simply practice your painting or drawing please come and spend a day, weekend or even a week, drawing and painting in the Peak District National Park. My courses include taught sessions mainly in watercolour although other mediums can be practiced to satisfy the needs of individual students.
Current courses are normally held in village halls at Sheldon, Hayfield, Ashford, Bradwell and Hope. Courses currently are being held at Sheldon DE451QS press. There is bed and breakfast accommodation close to the venues.
Please look at the content of the course which you will note cannot be covered all in one day. Each course content is designed to suit your needs so you can progress and improve in the future. There will be time set aside at individual tutorials on the course to discuss the things you want to learn. The courses are run in a relaxed atmosphere with teaching sessions and lots of time to practice. Alan, our tutor, has developed a novel method of helping students to understand painting from photographs and in turn when painting outdoors in the landscape.
We start at 9.15am and work through to 5.00pm, with around 30 minutes to eat the packed lunch you bring to the course. Food is however available at the Cock and Pullet Pub nearby. There are kitchen facilities. Courses are run on a ground floor room. All courses are over a Saturday and Sunday. Alan also provides courses for art groups who meet in their own premises.
Please state the weekend you would prefer to attend in 2018 from April onwards so we can try to satisfy your needs.
The fee for tuition is £30 per day/per person. Materials can be purchased on the course, tubes of paint, brushes etc. A full set of materials is expensive for a beginner therefore students can buy what they use on the course. However brushes, easels and other equipment are provided for use on the course. Please telephone Alan at home on 01433 621546 or contact h co courseim on his mobile phone 0796 894 1050 or email at: alanhearsum@btinternet.com Any surplus money from running the course goes to local charities.

Many students stay in Buxton when they come on a watercolour course so they can go to the Opera House in the evening. For all accommodation please Google the area in which you would like to stay. This link may be helpful http://www.cressbrook.co.uk
Request further information Alan on 01433 621546. email: alanhearsum@btinternet.com Address: Dr Alan Hearsum, Rats' Castle, Dale End, Bradwell, Hope Valley, S33 9HP.